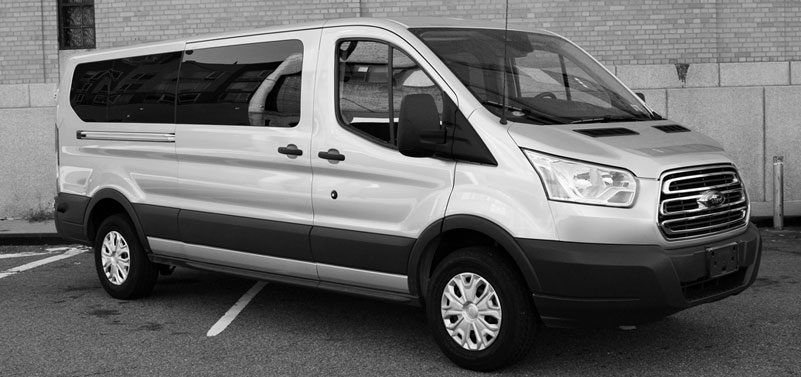 Whether you are traveling with your family members or college roommates, there is nothing better than having a road trip – except, all your fellow travelers may not fit in your compact car. Booking a 12 passenger van rental in advance may solve this issue.
Traveling in a large group of people can be quite expensive, especially when the budget is tight. When it comes to road trips, large groups can easily rent a 12 passenger van from 'Holiday Car Rentals' as well as save a lot of traveling expenses by sharing the costs for the rental and gas. These spacious vehicles are designed to make your road trip much more enjoyable, flexible and most importantly, affordable.
The passengers will have enough room for their luggage and they will no longer have to fight over arm rests or leg room. Such vehicles come with an equipped CD player which will keep the passengers entertained for hours. Since the entire group will be together in one vehicle, there will be no hassles in making decisions over pit stops with two or three more vehicles.
Driving a van does not have to mean you have to compromise with power and speed. Our Ford E-350 Clubwagon gives you enough space, speed and power to make your next road trip an experience to remember.
Here are some reasons why you should book a 12 passenger van for your next group excursion:
Reduced Costs
A12-passenger van can transport twice as many passengers as a minivan, and does it with more efficiency, saving you a a huge amount of money on fuel.
People Management
It can be extremely stressful to coordinate a group vacation. Not only you need to pen down the route but also ensure that your fellow passengers are capable of making it to that destination. With a 12 passenger van rental, the mis-communications, frustrations and lost time can easily be avoided.
Team Building
Have you ever thought that a high passenger capacity vehicle for your next group excursion is a perfect opportunity for on-the-road bonding? Traveling in separate vehicles makes it impossible to create an atmosphere of fun and joy. A spacious van provides you a networking space especially crucial for corporate and sports teams.
Holiday Car Rentals is a reliable company dealing with Car Rental Brampton. Since there is a very high demand for 12 passenger van rentals, we suggest you reserve in advance to avoid any frustrations at the last moment. You must be thinking that a roomy vehicle often experiences unexpected price hikes especially during the holiday season. At Holiday Car rentals we try to provide competitive rates on specialty vehicles even when there is a very high demand.
Holiday Car Rentals is confident in their ability to fulfill all reservations.
Car rental Brampton services are often explored by people planning for family or business trip. Nowadays, there are myriad of car rental service providers – small and large, offering the best cars and deals to their clients. But, you need to hunt for the car rental company that is genuine and aim to provide compassionate services to their clients. You need to devote a few hours in hunting for a company that can help you save some money and avoid unforeseen car rental disasters.
Car Rental Tips
If you are planning your trip away from your rental city, go with a company that works nation-wide. The company that can offer a lot of rental locations and even provide newer cars after paying a little more. When you go out of the town, you need a rental company that can offer quick assistance and good cars, if something does break down.
The rental fees and taxes vary by location. You need to accumulate information about different rental companies to compare their prices and deals to pick the best possible company.
Many credit card providers and home auto insurance policies also provide due coverage for your rental car. But, you need to confirm it from your agents otherwise accept the damage insurance provided by the rental companies.
Make sure you hold an copy of your home insurance policy to present before the car rental company. The copy is especially required if you are acquiring services from smaller companies as otherwise they don't let you decline their expensive insurance policies.
The rental agreement must be signed by all the drivers. Its for your protection as in case any accident takes place, the driver will not be able to refuse his liabilities.
Check the age requirements of the rental company especially if you are under 25. There are chances that some companies refuse to rent you at all, whereas some may charge more for renting. In case, you are traveling on business, your company may help in negotiating with the agreement.
As a renter it is your responsibility to review the terms and conditions and other rental policies of the company thoroughly on its website. You can have a look at their credit/debit card requirements, gas policies and other restricted areas where you can't take their cars.
Generally, companies have their own gas policies. Most of the companies expect that the renter returns the car with a full tank. And that must be full not nearly full otherwise they will charge extra from you.
The rental companies check the driving history of the person prior renting the car.
It is advised to examine the car meticulously before you drive it away from the company. Check for any damages as you surely don't want to be charged for the damage done by someone else.
All the above points will help you in getting a hassle-free car rental deal. We, at Holiday Car Rentals, offer comprehensive range of car rental service in Brampton and Mississauga. We have perfect cars for your every occasion – holiday or business. Our 12 seater van rental is considered as an ideal option for people planning a family outing.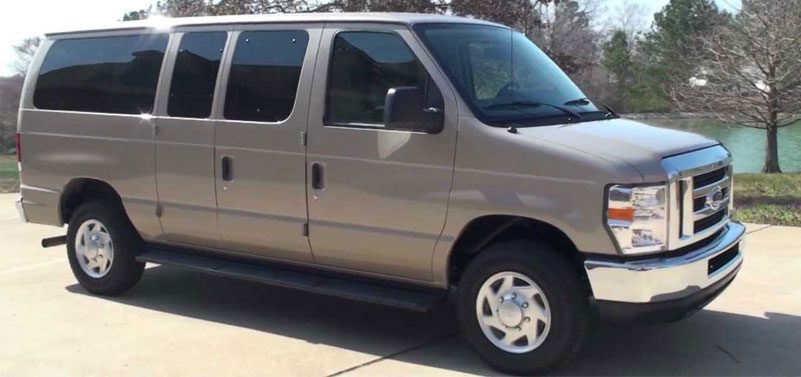 Renting a car offers more comfort and flexibility especially when you are on a vacation or business trip. Moreover, when its traveling to exotic places of the world, its the most practical way to get around comfortably. However, the complex processes of car renting often perplex even the most experienced travelers also. They get the beating of either traveling rules or hidden fees that are hard to decode sometimes.
Here are a few points that you need to learn about car rentals:
Understanding the Insurance Policy
People often buy a car rental insurance when they are out for vacations. Car rental insurance provide the same coverage for liabilities, medical and physical damage as like your car insurance provides. But,  this decision must not be taken so lightly as the insurance is quite expensive. Most of the credit cards provide rental car insurance benefit. Thus, it is essential to first confirm from your credit card company about what type of coverage they render to you before buying car rental insurance.
Know The Coverage Area
If your credit card company provides you car rental insurance, make sure to check whether that coverage extends to cars rented outside your province or state or not. Like if you live in Canada and have car rental coverage, would it also provide coverage for the cars that you hire outside Canada say in Europe or any other country. Before planning any outing outside your state, it is advised to get the coverage details from your credit card company.
Excluded Vehicles
There are many leading brands such as Porsche and Ferrari aren't eligible for credit card rental car insurance. But it may surprise you that some trucks, vans and vehicles with a Manufacturer's Suggested Retail Price (MSRP) also know as 'sticker price'. It is the price used by dealers to sell vehicles. Over a certain amount most of the MSRP vehicles are also not covered. So make sure you are aware of this condition.
Fuel Service Option
If you choose fuel service option, regardless of with how much fuel you return the car, they'll charge you for a full tank of gas. Thus, it is advised to return the car with an empty tank or you can avoid using fuel service option.
Keep-an-Eye on Your Mileage
There are only a few car rental companies that provide unlimited mileage facility. So, you need to watch out each additional kilometer for a cost-effective trip. In general, car rental companies render a daily limit of 100km. Rest of the kilometers are charged and one wrong turn can drive up your costs.
All the above mentioned points will help you judging the car rental company and knowing your liabilities and duties. Make sure to make a little homework before choosing any car rental company and its services.
Holiday Car Rentals provide a fleet of cars for business trips and vacations. There 12 seater van rental and 8 seater van rental are the best alternative for people planning a family holiday or a business trip with their business associates.
Niagara Falls is Nature's greatest gift to mankind which is located in the North American continent but divided between two world's most prominent countries; Canada and USA. While Canada is the place where the 'fall' actually happens, USA is the place where one can feel the 'fall.' If you are a resident of Canada, then a road trip to Niagara Falls is probably the best of all road trips in this country.
While visiting the Falls, people ask questions about car rental Mississauga so as to get more info about the trip or the destination. So, we have compiled a list of some frequently asked questions. They are:
Q 1. Is Niagara Fall open all year round?
Ans.Yes, Niagara Falls are open all year round. They are open 24/7/365.
Q 2. Is there a fee to see the Falls?
Ans. Generally there is no fee for seeing the Niagara Falls. This vivid sight of nature is absolutely free to watch. However, during the busier months from May to September, there may be a charge for parking your vehicles. Municipally operated attractions like 'maid of mist' or 'journey behind the falls' are paid.
Q 3. What's the best time to visit them?
Ans. The best time to visit Niagara Falls is also the time of their peak season which lies from mid May to mid September. If you want to avoid the crowd and enjoy warm temperatures along with the Falls, then early September is the best time for you. Nowadays, however, more and more people visit the Falls in winter since they look equally gorgeous at that time too.
Q 4. Where should one stay during a visit to Niagara Falls?
Ans. It is always recommended that people should stay as close as possible to the Falls. Parking is finite and thus getting on foot or the shuttle service is probably the best way to visit them from your place of stay.
Q 5. Where can one park his/her car while visiting the Falls?
Ans. If you are on a day-trip, you can park your vehicle in municipally operated parking spaces which tend to charge a minimal fee. You can park in the parking lots that are near 'Table Rock House' that is adjacent to Horseshoe Falls. If you tend to spend a night or two, you can always make use of the hotel parking. You can also get discount parking space at Falls view Casino if you are able to get a 'Frequent Player Card.'
Q 6. Are the boat rides available all year round?
Ans. Whirlpool Jet boat and Maid of Mist operate from early May to late October. During the months of November to April 'Maid of Mists', 'Cave of Minds' and 'Jet Boat' are closed, but other attractions and businesses remain open.
Niagara Falls is a must-see for all those who haven't experienced this splendid sight. We, at Holiday Car Rental, offer the most well maintained cars on rent. Our 12 passenger van rental charges are pocket-friendly without any complex terms and conditions. Call us anytime to get a 'Free Quote' on our holiday car rental services.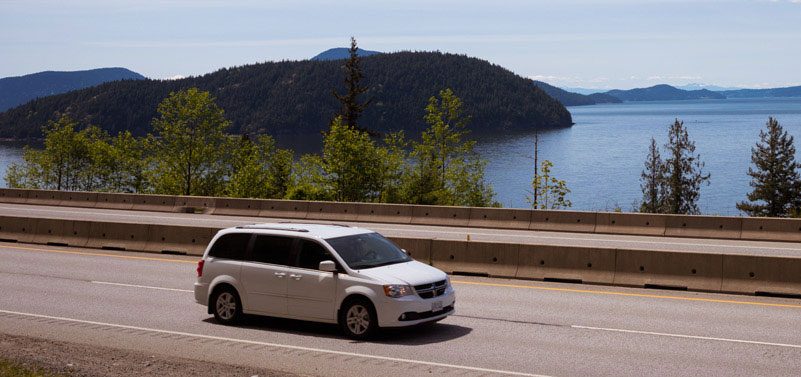 The holiday season is gearing up and you obviously don't want to spend this time sitting at home. So, probably the best thing to do is hire a car and go out to visit a new place. Confused about a possible destination? Don't worry, we have got you covered. Following is a list of top 5 road trips that you can make in Canada.
Vancouver to Tofino – This is one trip that is worth travelling across Canada. You can head to the Horseshoe Bay to take a ferry to Nanaimo where you hit the Pacific Rim Highway for a windy and gorgeous drive that boasts a splendid view consisting of mountains, coast and lakes. After reaching Tofino, Canada's surfing capital, you can then visit the world-famous Chesterman Beach while enjoying other attractions like whale-watching, fishing, hiking and a lot more.
Calgary to Lake Louise – This is actually a four day trip which begins with a visit to the very famous Calgary Stampede in Calgary. Then, on the way to Lake Louise, you can make a stopover at the Columbia Icefield for enjoying a quick snowmobile tour. After reaching Lake Louise you can enjoy a stroll around the stunning lake. The sight of crystal-blue water along with peace and birds chirping on the trees will definitely have a soothing effect on your nerves.
The Cabot Trail – If you are an avid golf player, then the Cabot Trail is the most ideal destination and road trip for you. Apart from six top class golf courses, the Cabot Trail on Cape Breton Island allows you to swim, fish, hike, kayak, scuba dive, go on a horseback ride and do a lot more. No wonder this place was ranked #1 among all island destinations in US and Canada by Travel + Leisure magazine.
Eastern Townships – A hour and a half drive to North Hatley, east of Montreal is one of the most luxurious getaways for all couples residing in the Eastern Townships. From Jacuzzi, Champagne, water view to a Gourmet Resto, you just name it. Along the way are these little stands where one can buy locally produced raspberries, corns, apples and even maple syrup.  You can even pick apples from their orchards and buy their famous brick of blue cheese.
Stratford – A short and scenic drive from Toronto, Stratford makes up for a great one day trip or maybe even weekend getaway. This charming small town is famous for its historic inns and a river that is perfect for a stroll or picnic. However, the most energetic and jubilant time in Stratford is during their famed theatre festival. The Stratford Festival should definitely be on the list of theatre enthusiasts. Apart from that, their annual Stratford Summer Music Festival that features songs from all kinds of music genres. Stratford is also home to some world-class restaurants, wine and coffee bars, ice-cream parlours and chocolate emporiums.
With so many beautiful and refreshing places in Canada, choosing the perfect one for a perfect weekend shouldn't be a tough decision. All you need is company of your loved ones and a reliable ride that can take you there.
We, at Holiday Car Rental, provide cars on rent. Our cars are well maintained and our services are budget friendly without any hidden costs. Contact us anytime to book your ride.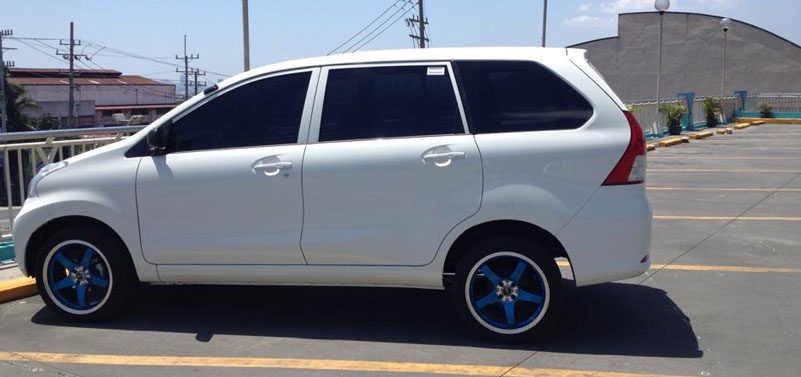 If you are
planning to rent a car
for your next vacation, then you ought to understand that the fuel costs in such trips are much higher than you believe them to be. Nothing will help you in lowering the gas prices. However, by being economical and with a strategy in hand, you can definitely keep a tab on your gas consumption which will ultimately help you cut costs while travelling.
How to Lower Gas Costs on Vacation
Following are some great tips to maintain the weight of your wallet:
Drive Manual – Automatic transmission uses more gas while accelerating than a manual transmission. So, if you are well acquainted with the manual gearing system, try driving on it for the entire trip. In case you aren't familiar with one, then it's high time for you to learn it.

Learning to drive a car on manual transmission doesn't take much effort and an average person can learn it in less than a week's time. Plus there is absolutely no major difference for the driver except the fact that you get to feel your ride more.
Rent the smallest possible car you can – Try to rent the smallest car according to the number of passengers. If you are a group/family of 2-3 members, then a compact car would be sufficient for you. No doubt, a sedan will look more appealing in terms of looks and comfort but then you'll be sacrificing 5-15 miles per gallon.

In some cases, the 12 passenger van rental is more appropriate to rent. Also consider other facts as how much driving you'll be really doing and the place where you are going.
Accelerate Slowly at a Green Sign – Don't just push the accelerator pedal to its limits as soon as you see the green signal. A major proportion of gas is used just to go from 0-20 miles per hour. So, accelerate slowly in order to use less gas.
Pick a Diesel Variant, if Available – While picking your rental car, ask if you can get your hands on a diesel variant of the same model or a different car in case you plan to drive a lot. If you are planning to drive less than 200 km, then it doesn't really matter. The savings in diesel versus petrol start showing up if you plan to drive more than 200km. You can also ask for a hybrid, but they are more expensive to rent.
Avoid driving if you can – If you intend to go for a sight-seeing at a place that is really close to your hotel, then try avoiding your car. Utilize the public transportation or reach by foot if you can. Even if you need to drive, then take up the most fuel-efficient route.
Vacations are a costly affair, especially now when the prices of almost everything are touching the sky. In such a scenario, these little crumbs of info can really help you a lot to save some bucks and use them where they are actually worth it.
We, at Holiday Car Rental, own the largest fleet of cars of every kind and type in the best condition possible. Contact us anytime to get more info on our car rental Brampton services.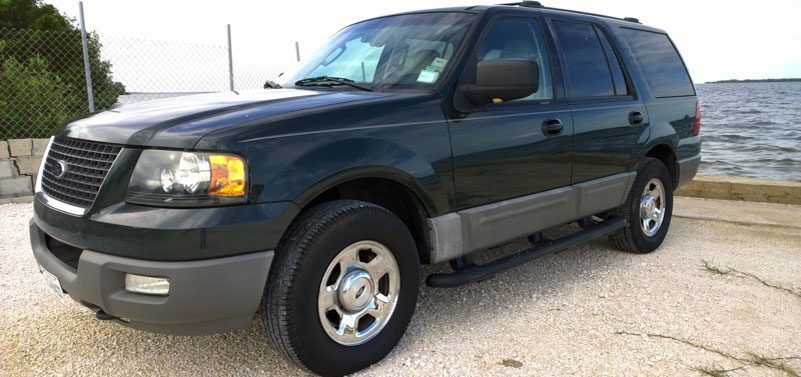 Are you planning a family holiday with your relatives and struggling to fit them in a small sedan? If that's the case, then you should probably go for a vehicle that has more space, like a SUV or a minivan. However, selecting the right one amongst these two options can be a trivial task. Car rental Brampton offers a host of choice when it comes to van or sedan.
Your entire trip depends on your decision, so choose wisely. In case you are unable to arrive at a conclusion, then the following comparison between a SUV and a minivan will help you to decide better:
Aesthetic appearance – Although it hardly matters in a trip, but the aesthetic appearance of the car matters. Out of these two, the SUV is undoubtedly the winner. The masculine looks and lavish interiors of a SUV really make the ride special. Moreover, a 12 passenger van rentals Brampton is something which you can boast about. Sedan on the other hand has nothing special. Often teenagers feel embarrassed travelling in van.
Gas mileage – On this front, SUVs can disappoint you since minivans provide more fuel mileage and savings as compared to a SUV. Moreover, the expenses to rent a SUV are more than that of a minivan since the maintenance costs of the sportier SUV are way more than a minivan. So if saving bucks on gas is on your mind, then you should probably go with the minivan.
Interior space concerns – When it comes to the amount of interior space, then both of them have a tough competition. But a minivan probably gets an edge over the SUV due to its cubicle design. Young children can be easily accommodated on the spacious seats of a minivan along with the elders. Plus, the large windows in a minivan provide a much better view of the outside which can keep the children occupied for the long stretches of time during your trip.
Towing Limits – If your weekend trip includes a boat outing then a SUV would be a better option since their towing limit is much higher than a minivan. They can tow almost any average boat. The same cannot be said in case of a minivan.
Safety features – Due to their design, SUVs have a much greater chance of having a rollover accident as compared to minivans. But the overall safety components in a SUV are much better than those present in a minivan. In fact, SUVs are extremely safe in crashes that involve two vehicles. If you think that a rollover is a major risk, go with a minivan.
Choosing SUV or Minivan Will Always Remain a Dilemma
While choosing between SUV and minivan, you need to pay heed to a majority of things. Although minivans have a much better space than a SUV, but they aren't safe in case of accidents. But if saving on gas charges is in your mind, then you should go with a minivan instead of an SUV. Either way, your main concern should be the safety of your family and a memorable ride!
We, at Holiday Car Rental, provide vehicles on rent for family or business trips. Our fleet of cars has something for everybody. Contact us today to book your set of wheels for your next trip.
With winter, apart from the chilling temperatures, people also get a season full of activities. People, gear up for events such as prom, weddings, Christmas etc. Another completely different scenario that sees a sharp increase in profits during winters is the car renting industry.
Nothing does it better than a stretched and a classy vehicle. The highly trained chauffeurs and the extremely luxurious cars are worth the rent. However, there are some little bits that you must know, before you rent our 'Holiday Car Rental'.
Tips to Rent a Car
Get the best deal

Do your market research well and compare the prices. Apart from the prices, also check the cars and the services they provide. Strike out any unwanted paid service, which you know, you won't be using. Do not pay extra bucks for anything you consider vague and unnecessary.

Rent wisely

Calculate the size of your group beforehand and then make any reservations. Do not choose a limo that is too big or too small for your group. Try to understand the available car options.

A Lincoln Town Car, simple luxury sedan, can seat about 3-4 passengers. Though is cannot be called a limousine, it can surpass others in the amount of space available.
For a more fun-filled funkier excursion, you can rent SUV limos like the Ford Excursion car. These huge SUVs are extremely comfortable for 5-6 people.
Lincoln Stretch car is perhaps the most renowned limo in rental circles. It can accommodate 10 people and is the most popular choice for prom, bachelor and post-wedding parties.
If you're interested in making a huge impression, simply go or a Stretch Hummer H2 car. Another option includes a Cadillac Escalade Stretch SUV vehicle. These have their own charm when it comes to transporting 16 passengers or more in utter comfort.

Examine other things

After bidding the car at the best price, don't consider your job done. Go ahead and ask for the company's safety record. Ask for their Commercial Vehicle Operator Registration (CVOR) number, used by the Ontario Ministry of Transportation to track a company's accidents and convictions. MTO can provide a public abstract. Do not hesitate regarding this issue.

Company background

Be sure that the company you choose has licensed drivers. If possible, make sure that all drivers have been background checked. You can even ask the company to provide you with a proof of insurance and their license to carry passengers.

Check it out

Many people book their car online by viewing the pictures posted by the company and then get disappointed when their ride arrived. So, it's better to go and have a look. Check for any possible dents and flaws and ask them to correct them, before you the car actually arrives for you.

Beware of gratuities

Never sign the papers before talking about any hidden costs. Try to beware of charges, like gratuities for the driver, extra pick-up fees, or even transportation or gas surcharges. Gratuities can be anywhere from 15-20%, and are considered a standard billing addition. Clarify about any extra fees associated with damage. Ask as many questions as you need to.

Safety Protocols

Enquire about the provision the company will make for its passengers in the event of a collision or some other accident. Usually these companies are very professional and the chauffeurs have adequate expertise to handle any kind of emergency. Still, it is always beneficial if you know how you'll be treated in unexpected situations.

Get it in writing

Prefer a written agreement that mentions everything from deposit, cost, and refund policies, schedule of the arrival and pick-up/drop-off times, locations to be travelled, car model chosen and any other individual service you have selected. Read the contract properly and clear any doubts. A good company will always clear every doubt.
Renting a luxury car can make a special occasional much more thrilling and exciting. The idea of being chauffeured sounds irresistible. But, at the same time it is also important for you to act smartly and choose a company that is renowned for its service. We, Holiday Car Rental are amongst them. Renting luxurious cars is Holiday Car Rental's forte. We promise to make your special moment exclusive with our best in class service.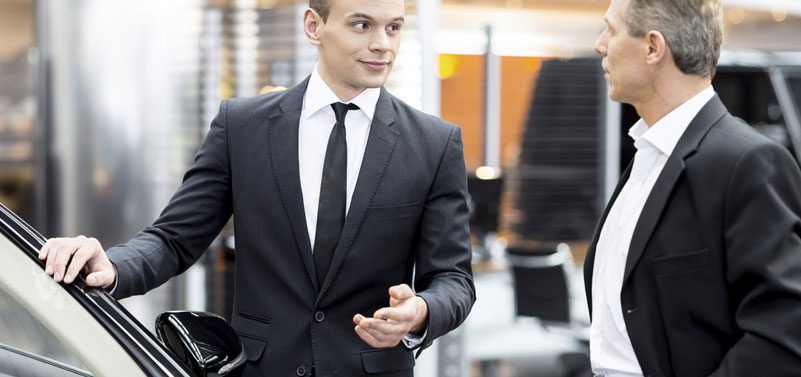 People prefer to get cheap car rental deal in advance before going to a holiday. The most preferred way is to book a 12 passenger rental van online, if you plan on going to an extended family trip. No matter how good your personal car is, it is always advised that you choose a rental for a long trip. Uncertain road conditions, sturdy vehicle such as SUV's/Vans and the fun of travelling together makes car rental a great option. Here are some tips to get you started.
1. Compare and research: Car rental deal is something that can be best experienced by comparing. Know what you want from the cheapest car rental company you are researching about. When you get to know your requirements such as how many passengers, total miles to be covered, vehicle type; ask the company for a quote. Most likely, the car rental deal company will oblige and give a competitive quote. In other cases, the prices of vehicles as well as other relevant information is provided upfront for the visitors to read.
Inquire about the type of services offered by the company. If you are looking for a 12 passenger rental van, ask the company which brands and models do they have in service. Most of the companies that offer large vans provide additional services to go with the vehicle. What are the features offered in the car and how much is the mileage of the car. The mileage of the car is becoming increasingly important since long trips are now planned as per increasing gas prices. Moreover, check the past record of the company.
2. Collect Quotes: Once you have selected the car rental deal companies as per your requirements, it is now time to collect quotes. Ask the company representatives to provide quotes for the car rental deals. Ask them to offer quotes as per their top of the line model in 12 passenger van. This will remove any surprises at the very end. Usually, the rental companies provide immediate quotes and you can complete the entire research process within a day. Quotes can be misleading also.
3. In-depth Surveying: Once you have the quotes, check the details. The devil is in the details. Check what each of the companies is offering in the quotes. For e.g. do they offer some free gas? is the SUV fully-loaded? Is the mileage of the vehicle as per you requirements? Is the company providing insurance with the quote? All the major car rental companies offer insurance in the rental quote. All these things will help you make the final decision. Make an enlightened decision by following these tips and avoid frowned faces of family members during the trip.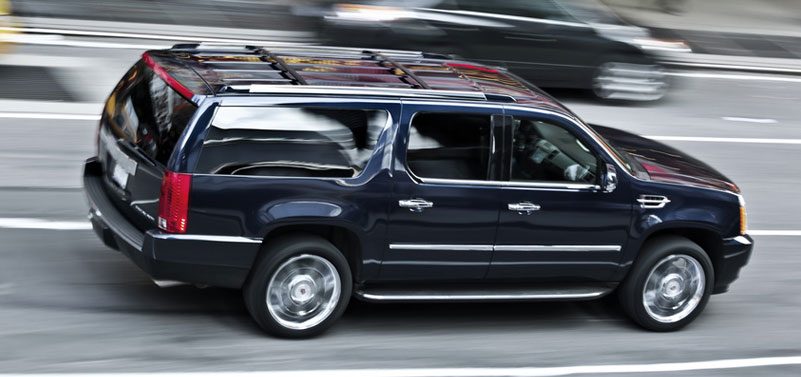 When it comes to true luxury car rentals nothing beats a true-blue full-size SUV. The amount of power, space, comfort is simply awesome in SUV's. So, if you are looking for a road trip with your family to some outdoor adventurous location, choose an SUV and leave worries behind. You will certainly pat yourself on the back for making a great decision.
Luxury Car Rentals – Choose SUV over Sedans
Canadian adventures most certainly include mountaineering, camping and adventurous sports. The fact that Canadian landscape consists of mostly rugged sceneries and beautiful mountain ranges, most Canadians prefer SUV's for daily travelling as well. So, when it comes to holiday or camping, SUV's become a natural choice. Not only can you carry your entire family in great comfort, the camping equipment is also easily stowed away. Huge roof racks ensure that large loads can be adjusted on the roof and transported easily.
SUV rental Brampton offers a range of SUV's to suit every occasion. Be it the family camping trip or the boating trip, a fishing excursion or the long-wheelbase party SUVs. These large vehicles can carry a lot of people and their luggage in total comfort. For e.g. boy scouts group can be carried in a large SUV along with their entire camping gear. A small softball team can be transported to their next game in no time. These are urban advantages of SUV's. They offer many other advantages even when the black tarmac ends.
When it comes to power, SUV's are not behind. With huge engine bays, these vehicles accommodate large powerful engines providing excellent pulling power. Even with large campers in tow, a powerful SUV shows no signs of stress. With modern technology, clean diesel engines are offered by most of the manufacturers. These engines offer the same high power but emit less noxious gases. Great off-road ability means minor country-roads bumps will not even bother the occupants. This also ensures that you can do some adventurous off road while looking for that mysterious deer/elk in the woods.
SUV Rental Brampton – Features Galore
When going on a long trip, SUV can cater to its occupants by offering a lot of features. The kids can play video games at the back while the oldies can listen to their favorite music. Individual chargers, climate control options and leg space make these vehicles the prudent choice for large family outings. Large foldable screens ensure that everyone gets to enjoy whatever it is that they like. Some favorite SUV features include heated seats, storage spaces, ABS and EBD for safety, large LCD screens, connectivity features etc. Most of all, the amount of space means that your family dog can also be accommodated somewhere at the back.